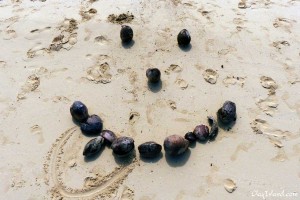 "Our chance for Life begins each morning with a smile….and ends each night with Peace."
There is an old African saying, "As the circle begins, so shall it end." Each day of our lives is a gift, never knowing how many more we will be given. So I have to ask myself, "How do I want to live today?" If I welcome Life, it will return the favor. If I fight Life, it will respond accordingly. Knowing this, I become aware of the fact that I do have a choice. We all carry some hurt, resentments and disappointments. The question remains, how do I carry these feelings and how are they affecting my daily life? Do we have the capacity to see beyond these wounds and open ourselves to the opportunity to see the gift in Life? Yes, I have failed many times, like you. Thank god we are human. I wake each morning and realize that I have been given another day here on Earth, as if it is borrowed time, perhaps a bonus. A time to appreciate my family, the contributions I have given to my community, the many things I have created, Nature that surrounds me, and all that I have been given. Gratitude!
As the day comes to an end, I look back and acknowledge what has happened throughout the day, the hills and the valleys, and conclude Today was a good day to live. I thank the Creator for giving me the gift of Life not knowing when it will end for me and embrace all the emotions that swirled through me.